Kenal Lebih Dekat Dengan:
Dr. Budi Sugiarto Widjaja, MD
Menangani: Manajemen Skoliosis dan Gangguan Muskuloskeletal
   Jadwal Praktek:
Daan Mogot – Jakarta Barat
   Senin, Rabu dan Jumat
   09:00 – 16:00 WIB
   Sabtu
   08:00 – 15:00 WIB
Alam Sutera – Tangerang Selatan
   Selasa
   09:00 – 16:00 WIB
Dr. Budi Sugiarto Widjaja, lulusan dari Beijing University pada tahun 2004, dengan gelar Medical Doctor.
Beliau bercita-cita menjadi dokter agar dapat membantu banyak orang. Maka dari itu beliau menekuni perpaduan western & chinese medicine, akupuntur, serta mengambil berbagai sertifikasi dalam rehabilitasi tulang belakang..
Curricullum Vitae
Graduated from Beijing University, Beijing China. Bachelor of Medicine (Medical Doctor), 2004
Sino Japan Hospital, Beijing China. Assistant Head Department of Acupuncture, 2004
Book of Abdominal Acupuncture, Writer and Author, 2006.
Kompas Gramedia GHS Magazine – Acupuncture Workshop Lecture and Trainer, 2006.
Graduated from Jakarta Trainer Institute & IKNI, Jakarta Indonesia. Certified Acupuncture qualification Trainer, 2008.
Finished course of CLEAR Institute Scoliosis Care and Treatment , Minnesota USA Scoliosis Rehabilitation Practitioner, 2008.
Mastered Quantum Neurology, GRT Rehabilitation, Los Angeles USA Quantum Neurologist, 2011.
Mastered Advanced Bio Correction (ABC) Postural Correction Technique, USA, 2012.
Mastered Functional Cranial Release Technique, USA, 2014.
Scoliosis Schroth Best Practice Practitioner, Schroth Best Practice Academy, Gensingen, Germany, 2015.
Scoliosis Schroth Best Practice Instructor, Schroth Best Practice Academy, Gensingen, Germany, 2016.
Brace GBW Orthotics Certified, Schroth Best Practice Academy, Gensingen, Germany, 2016.
Active Release Technique, Level I Spine and Upper ext, ART Academy, USA, 2017.
Brace GBW South East Asia Distributor, 2018.
Penulis : Budi Sugiarto Widjaja, CMD
Ukuran : 15.5 x 23.5 cm.
Tebal : 80 (BW) + 24 (FC) hlm.
Cetakan : 1
Penerbit : Kawan Pustaka
ISBN : 979-757-171-8
Mungkin tidak banyak orang tahu bahwa penyembuhan penyakit bisa dilakukan melalui perut, termasuk untuk penyakit yang menyerang bagian non-perut.
Dengan teknik kurapuntur (akupuntur yang khusus dilakukan pada bagian perut), penyembuhan penyakit melalui perut dapat dilakukan. Buku ini mengulas semua aspek, baik teori maupun praktik, kurapuntur.
Untuk melengkapi pemahaman akan khasiat kurapuntur, buku ini juga mengulas aspek-aspek penting dari pengobatan tradisional Cina dan kesaksian para pasien.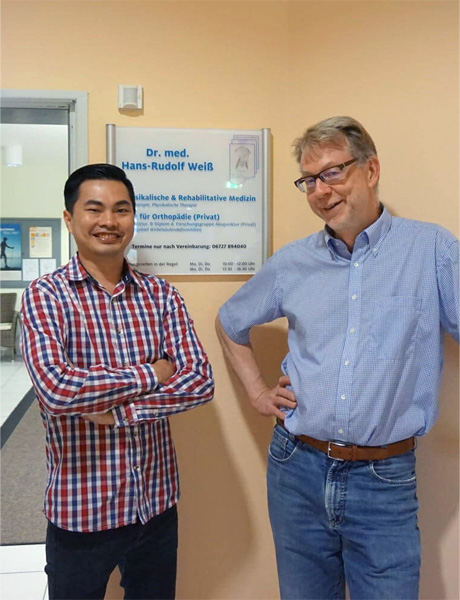 With Dr. Hans-Rudolf Weiss in Germany
With dr. John Liurance, FCR Technique in Florida
With Maksyim, CPO and NanXiaoFeng, CPO
With dr. George Gonzales, Founder of GRT Quantum Neurology
Penghargaan Presentasi Terbaik Yang diterima oleh Dr. Budi Sugiarto Widjaja, MD
di Konferensi pertama mengenai Scoliosis Management di Istanbul, Turkey.