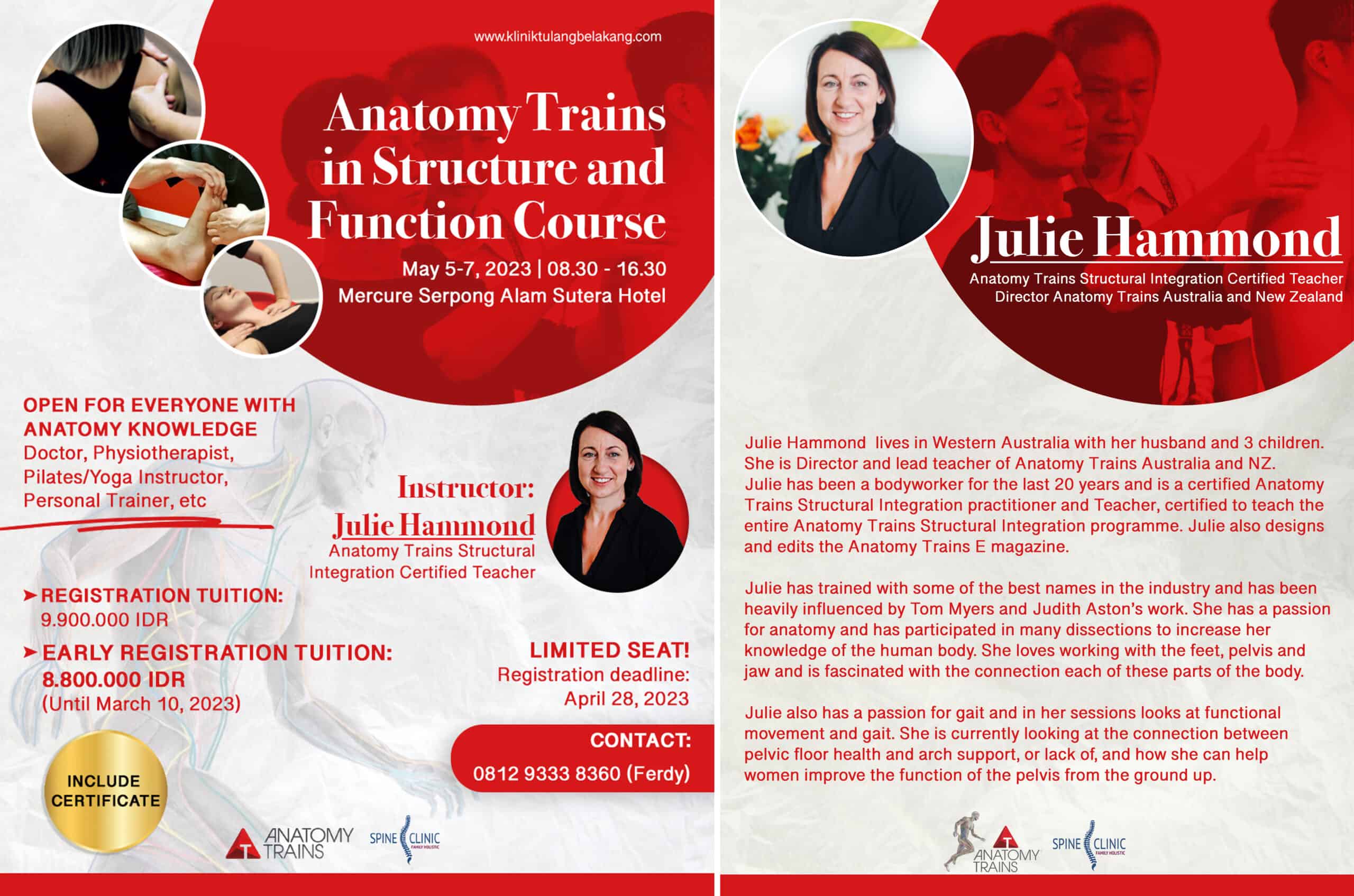 Anatomy Trains in Structure and Function Course
Anatomy Trains in Structure and Function Course merupakan langkah awal bagi setiap orang yang ingin mempelajari anatomi myofascia dan memperluas kemampuan untuk mengenali postur dan pola gerak tubuh. Anda akan mempelajari bagaimana membuat perubahan dalam tingkat fascia menggunakan tangan, mengenal lebih dalam mengenai fascia dan perannya dalam tubuh kita.
Keuntungan:
Mengaplikasikan pengetahuan dan keterampilan praktis untuk praktek sehari-hari
Memiliki perspektif baru mengenai postur
Mengenal pilihan yang efisien dalam pemeriksaan dan perawatan
Course terbuka bagi tenaga medis maupun non medis dengan pengetahuan anatomi yang baik.
Acara ini akan diselenggarakan pada:
Tanggal: 5 s/d 7 Mei 2023
Waktu: 08.30 – 16.30
Lokasi: Mercure Serpong Alam Sutera Hotel
Biaya: Rp 9.900.000,-
Early Registration (Januari-10 Maret 2023): Rp 8.800.000,-
Contact person: 0812 9333 8360 (Ferdy)
Tempat terbatas, pendaftaran terakhir 28 April 2023
Note: Course akan dibawakan dalam bahasa Inggris
Anatomy Trains in Structure & Function
One short course. . . long-lasting results for you!
A revolutionary map with practical results!  Transform your view of myofascial anatomy and expand your ability to assess postural and movement patterns, and to create lasting fascial change with your hands.
In this exciting course you will learn about the myofascial tissue and its many roles in the body. You will begin to appreciate how the body incorporates the Anatomy Train Lines to create easy and graceful movement – provided they are in some form of balance and harmony; restriction or weakness in one section can have many compensatory effects elsewhere.
This workshop will show you how that happens, how to trace the lines of strain and, most importantly, how you can develop strategies to deal with them.
This is the first workshop to combine Anatomy Trains theory alongside structural and functional anatomy and analysis, blending together the concepts of tensegrity with elastic recoil for movement efficiency.
Get the latest information on fascia, muscle, and movement
Be able to identify the 12 myofascial meridians and their link to human growth, development, perception and consciousness
Accurately "BodyRead" posture and movement; assess your clients in a new way
Gain effective myofascial and movement strategies
Develop treatment strategies specific to your clients' structural and functional patterns
Anatomy Trains in Structure & Function courses give you new techniques to transform structure by reaching deeper issues in the tissues.
Anatomy Trains in Structure & Function is suitable for Manual Therapists (massage therapists, physiotherapists, osteopaths, chiropractors), it also serves as the prerequisite to the ATSI Certification Program.
21 CEs NCBTMB; 21 CECs PMA 
Note: Please do not make nonrefundable travel before confirming the class is going forward.
Anatomy Trains in Structure & Function / Structural Essentials (SE) Program
Functional, Fascial and Structural approaches in one program
Understand how the body really moves,
Break the myths of anatomy and physiology
And learn to make the appropriate changes to maximize efficiency
Begin your journey with: Anatomy Trains in Structure & Function
Note: We strongly recommended taking the Anatomy Trains in Structure & Function course before taking the SE courses. Familiarity with the Anatomy Trains lines and concepts is key to getting the most from the program)
Continue your journey with: The Structural Essentials Series.
These regional intensives combine global postural assessment with movement and manual techniques for efficient and long-lasting results.  Each of the 6 Structural Essentials classes is based on consistent functional movement concepts, applied to everyday movement and our new understanding of myofascial efficiency and whole body response. Important research findings are integrated into the presentations, along with cutting-edge applications that can be used for clients on your next day in clinic.
Designed for the busy therapist, these workshops are most easily absorbed in the order outlined below but you can do them in any order as time permits.
Arches and the Legs – 3 days
Fans of the Hip – 2 ½ days
Opening the Breath – 2 ½ days
Unwinding the Spine – 2 days
Shoulders & Arms – 2 days
Head, Neck & Jaw – 2 days