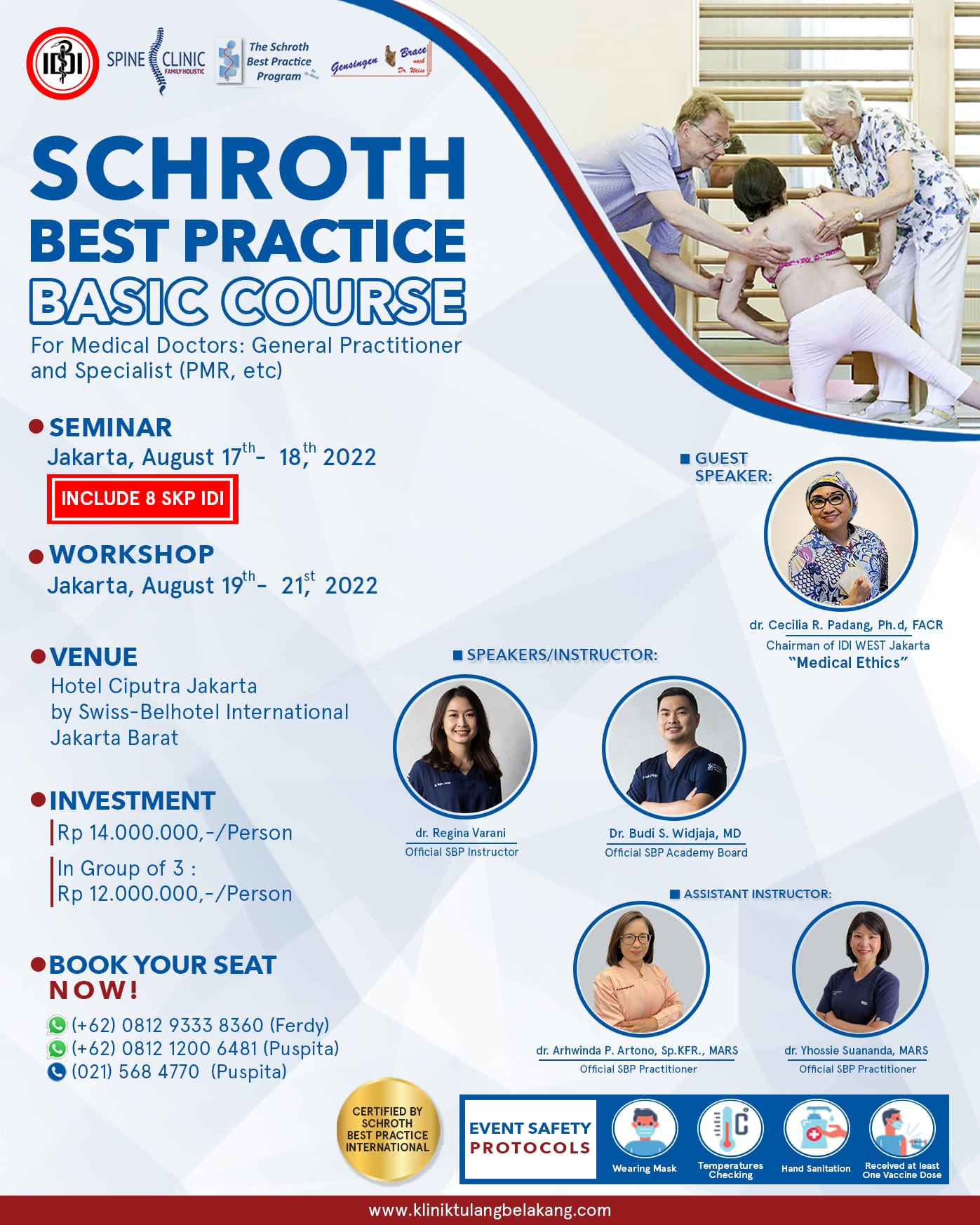 SCHROTH BEST PRACTICE BASIC COURSE 17-21 Agustus 2022 – JAKARTA
🔸Full Workshop (40 jam)🔸
🔹Tujuan:
Mengajarkan Dokter pengetahuan komprehensif mengenai skoliosis dan konsep dasar terapi skoliosis melalui Program SBP dan Brace GBW, serta meningkatkan kemahiran dalam melakukan latihan SBP, mendiagnosa dan mengajarkan pasien.
🔸Guest Speaker:
– dr. Cecilia R. Padang, Ph.d, FACR (Chairman of IDI WEST Jakarta) "Medical Ethics"
🔸Speaker/Instruktur:
– Dr. Budi S. Widjaja, MD (Official SBP Academy Board)
– dr. Regina Varani (Official Schroth Best Practice Instructor)
🔸Assistant Instruktur:
– dr. Arhwinda P. Artono, Sp.KFR., MARS (Official Schroth Best Practice Practitioner)
– dr. Yhossie Suananda, MARS (Official Schroth Best Practice Practitioner)
📍Venue: Hotel Ciputra Jakarta by Swiss-Belhotel International Jakarta Barat
🔹Investasi:
-Rp 14.000.000,-/person
-In group of 3 : Rp 12.000.000,-/person
🔻Sudah termasuk:
-Materi SBP International dalam bahasa Indonesia.
-State of Art 1 & 2: Pengenalan skoliosis, terapi konservatif skoliosis & program SBP, pilihan terapi berdasarkan usia, dasar diagnosa dan klasifikasi skoliosis berdasarkan ALS, pengenalan brace GBW dalam penanganan skoliosis.
Pattern identification.
Patient investigation.
Gerakan SBP (Demo, praktek dengan terapis dan praktek ke pasien langsung selama 2 hari).
Buku Schroth Therapy.
Konsumsi.
Basic Level Certificate dari Schroth Best Practice Academy International.
Terdaftar di website Schroth Best Practice sebagai praktisi SBP resmi.
Khusus untuk dokter di Indonesia
🔸 Termasuk 8 SKP IDI.
Segera daftarkan diri Anda, tempat terbatas!
WA: (+62) 0812 9333 8360 (Ferdy)
WA: (+62) 0812 1200 6481 (Puspita)
Telp: (021) 568 4770 (Puspita)